Custom Pool Design Sydney
At Stone Lotus Landscapes we live and breathe all things landscape design. And just quietly, we're also quite the pool enthusiasts. We work with clients from initial consultation to design concept and finalisation, right through to completed construction. We also happy to assist with styling and furniture sourcing. In short, we can provide a complete landscaping solution (including custom swimming pools). This continuity ensures concept designs are imagined bearing in mind any budgetary limitations or construction challenges. We provide a more seamless and potentially quicker option for our many clients considering a new pool.
As a swimming pool is one element of the larger outdoor context, we firmly believe that if you want an outdoor space that flows, works aesthetically, makes the best use of the space (not to mention one that is constructed to the highest quality), your pool should be designed by a landscape designer as part of the overall garden design. If you agree, we're so happy you've found us.
Why Choose Stone and Lotus?
We can tailor a design package to best suit your project requirements and budget. We can produce 2D colour designs, material and finishes schedule and planting schedules, 3D renders and 3D fly through videos. We will prepare submissions and manage the development application process on your behalf.
Looking for the best custom pool design Sydney has for you? We'll help you consider different options and visualise what the pool will look like as part of the larger garden design context? Considerations such as pool size and shape, where it should be positioned, materials and finishes selection, how it will work with and flow onto other outdoor spaces, will all be considered.
We often get asked whether there is any 'value' to adding in a pool? Or will it add value? Our answer is invariably yes if you have the space and budget. Read on if you want to know why.
We believe a pool is a fantastic addition to any garden or outdoor area. Leaving aside questions regarding cost vs property value, we like to focus on the 'value' it adds to client's everyday lives. The added value to their lifestyle and their relationship with the outdoor spaces of their home.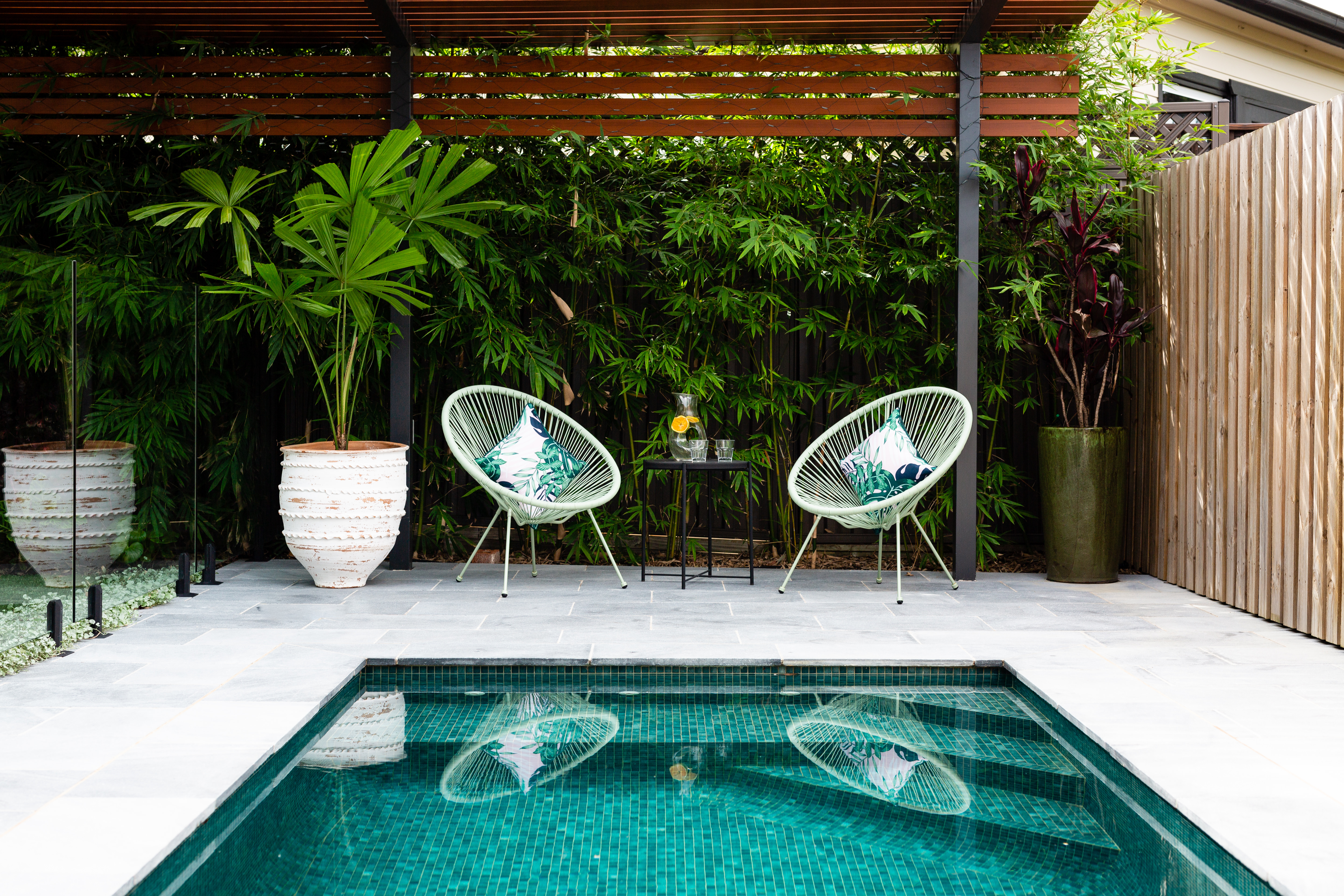 Want a Custom Swimming Pool Design in Sydney?
We love how a pool enhances the comfort of our client's homes. Cue slipping into clear cool water to escape blistering summer days or a place to unwind and enjoy summer sunsets. Installing a pool also has entertainment value and is likely to result in more time spent at home. Just consider entertaining poolside and the hours of entertainment for the kids. Kids can learn all-too-important water safety skills and build their confidence, from the convenience of their own backyard.
A pool has an aesthetic value to garden design. A thoughtfully designed and executed custom pool adds another dimension and point of interest to an outdoor space. There is no denying the feeling of tranquillity we often associate with bodies of water. In our experience the inclusion of a custom pool adds that sense of serenity and calm so many seek in a good garden design. If you're searching for the most proficient swimming pool design Sydney has available, you've come to the right place. Get in touch with our team today for more information.